Article: Sweet Garleek Pipian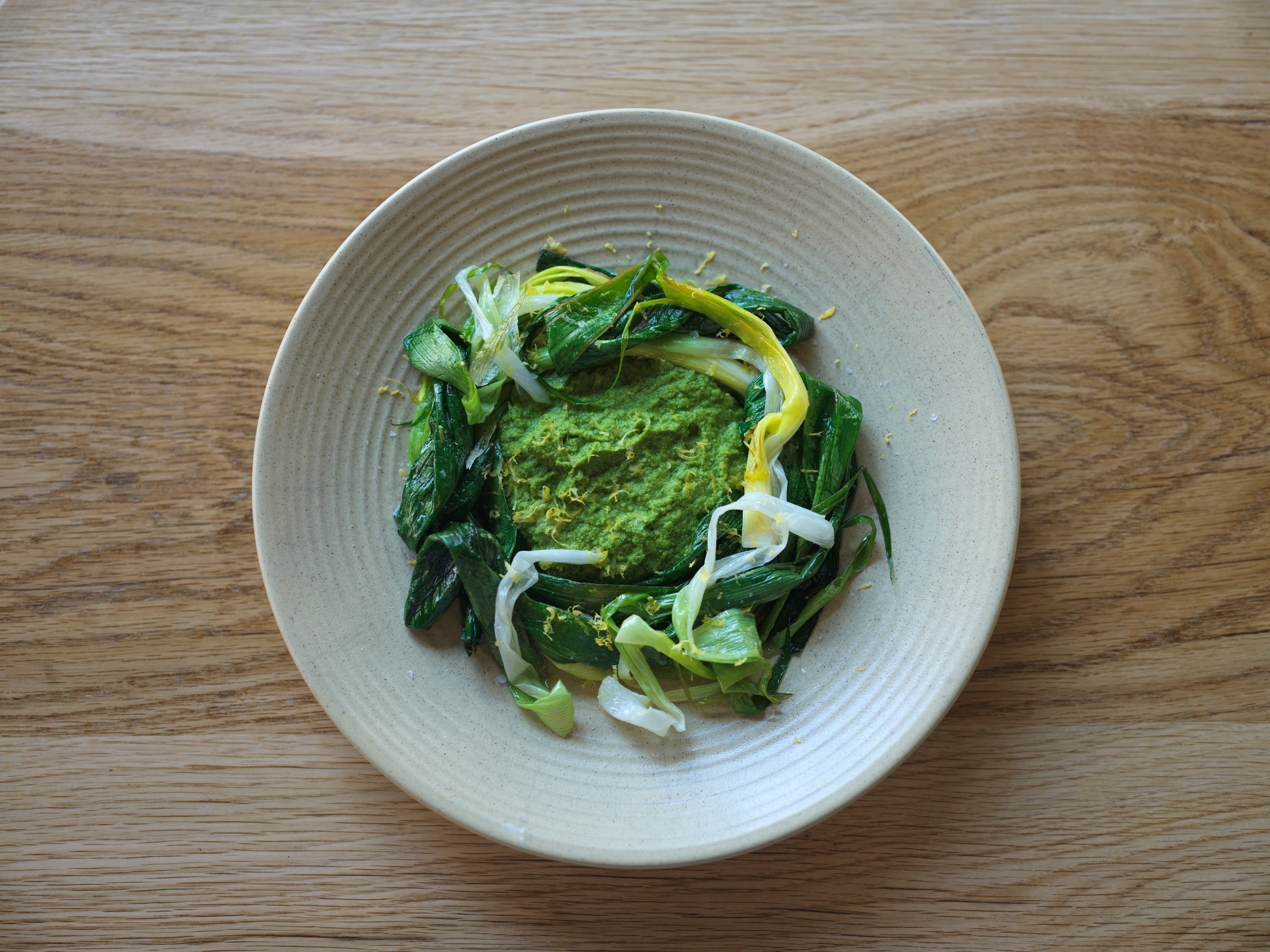 Sweet Garleek Pipian
BY MARISOL CORONA, ATLA (NEW YORK, NY)
INGREDIENTS
5 tablespoons neutral oil, divided
10 Sweet Garleeks, divided
1 small white onion, diced
1 clove garlic, sliced
2-3 poblano peppers, seeds removed and diced
1 serrano chile, chopped
350 grams (about 10 small) tomatillos
1 large bunch cilantro
1 small bunch hoja santa
1 cup pumpkin seeds, roasted and seasoned with salt
1-2 limes
1 lemon
Salt, to taste
DIRECTIONS
Pour oil into a small saute pan and place over med-low heat; add pumpkin seeds and toast, stirring constantly, until golden brown. Pour into a bowl, season with salt, and set aside.
Taking 2 of the Sweet Garleeks, slice the ends off (just above the stems), then cut each in half, separating the whites from the greens. Set the greens aside to blanch later, and slice the whites horizontally into coins. 
Pour another tablespoon of oil in a medium pot, and gently saute the sliced Sweet Garleek whites, onions, and garlic over low-medium heat; you're looking for them to become translucent, but not take on any color. 
Add the poblanos, serrano, and whole tomatillos. Cook until they are bright green, but the tomatillos are not blistering or browning; this will ensure a vibrantly-colored sauce. When finished, remove from heat and pour into a bowl. 
Fill a large bowl with ice and cold water and place it next to the stove. Heat a medium pot of water over medium-high heat until simmering, then remove from heat and immediately add the Sweet Garleek green tops (from the two stems used earlier), the cilantro and the hoja santa. Stir gently for about 30 seconds, then remove the blanched greens and place in the ice water bath immediately. Once they've cooled completely, pull the greens from the water and squeeze them to remove any excess water. Roughly chop up the bunch, and set aside. 
In a high-powered blender, blend half of the tomatillo mixture and half of the blanched greens until coarsely pureed. Add the rest of the tomatillo mixture and blanched greens, as well as the pumpkin seeds and blend until the sauce is consistent in texture, no large chunks remain, and its color remains vibrant; avoid over-blending, as the sauce will begin to turn brown. Season with several teaspoons of salt, taste, and add more salt if desired. 
Line a baking sheet with a layer of paper towels, then trim the root ends off the remaining 8 Sweet Garleeks before slicing them lengthwise in half. Heat a large saute pan over medium heat, then pour in 3-4 tablespoons of oil. Working 4 at a time, fry the Sweet Garleeks 2-3 minutes each, gently turning them over; you're looking for the white parts to become tender, but not take on any color. Remove to the paper towel-lined baking sheet. 
In a large bowl, gently toss the fried Sweet Garleeks with the juice of half a lime and a sprinkle of salt. Taste, and season further if desired. 
To serve, place a large spoonful of the pipian into the center of a plate, then surround with several fried Sweet Garleeks. Garnish with lemon zest and sea salt.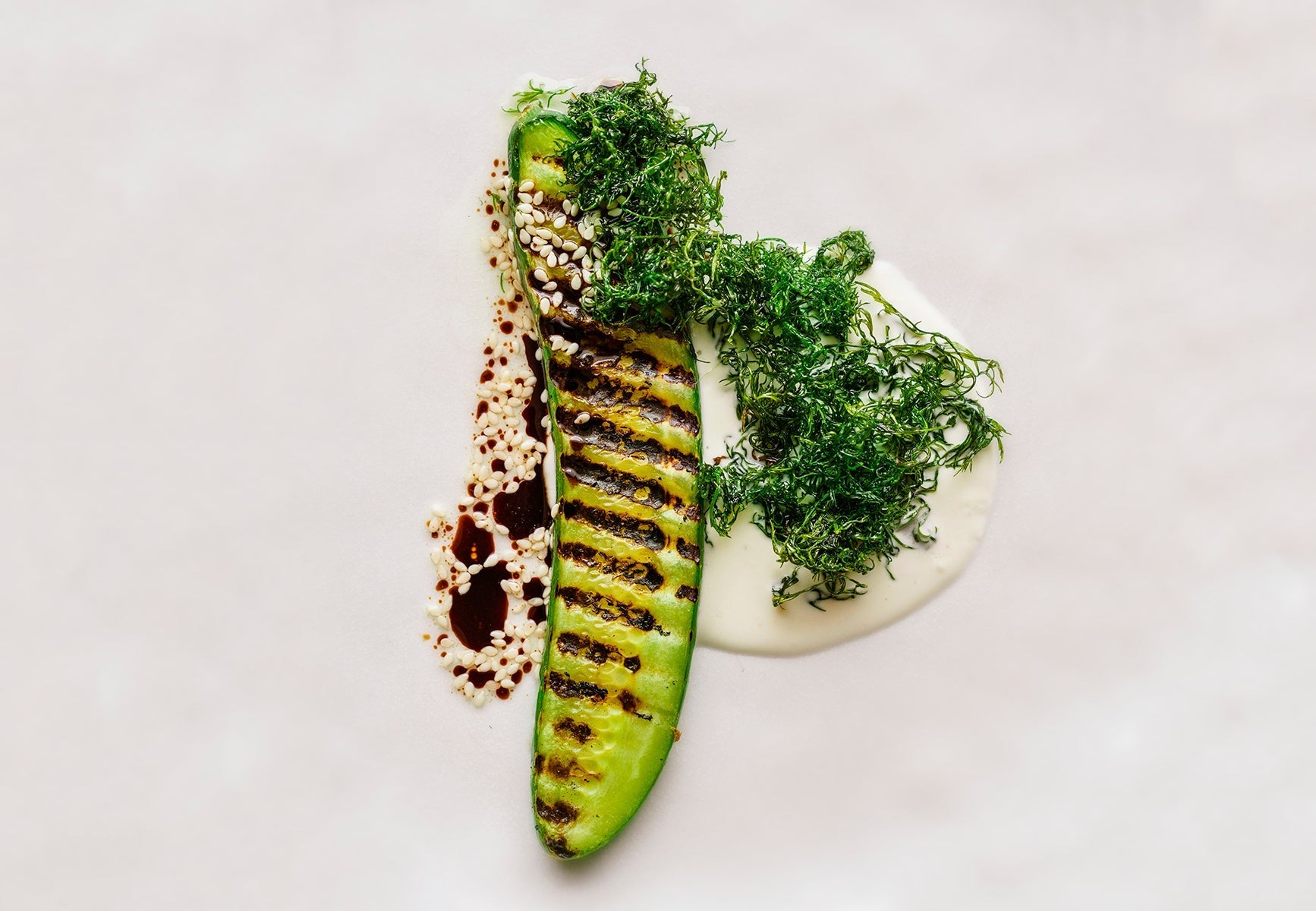 Grilled 7082 Cucumbers with Fried Dill
Chef: Dan Barber, Blue Hill at Stone Barns Serves 8 as a side Ingredients (4) 7082 cucumbers, halved lengthwise2 tablespoons rice wine vinegarSalt and pepperVegetable oilStrained yogurtSesame vinai...
Read more