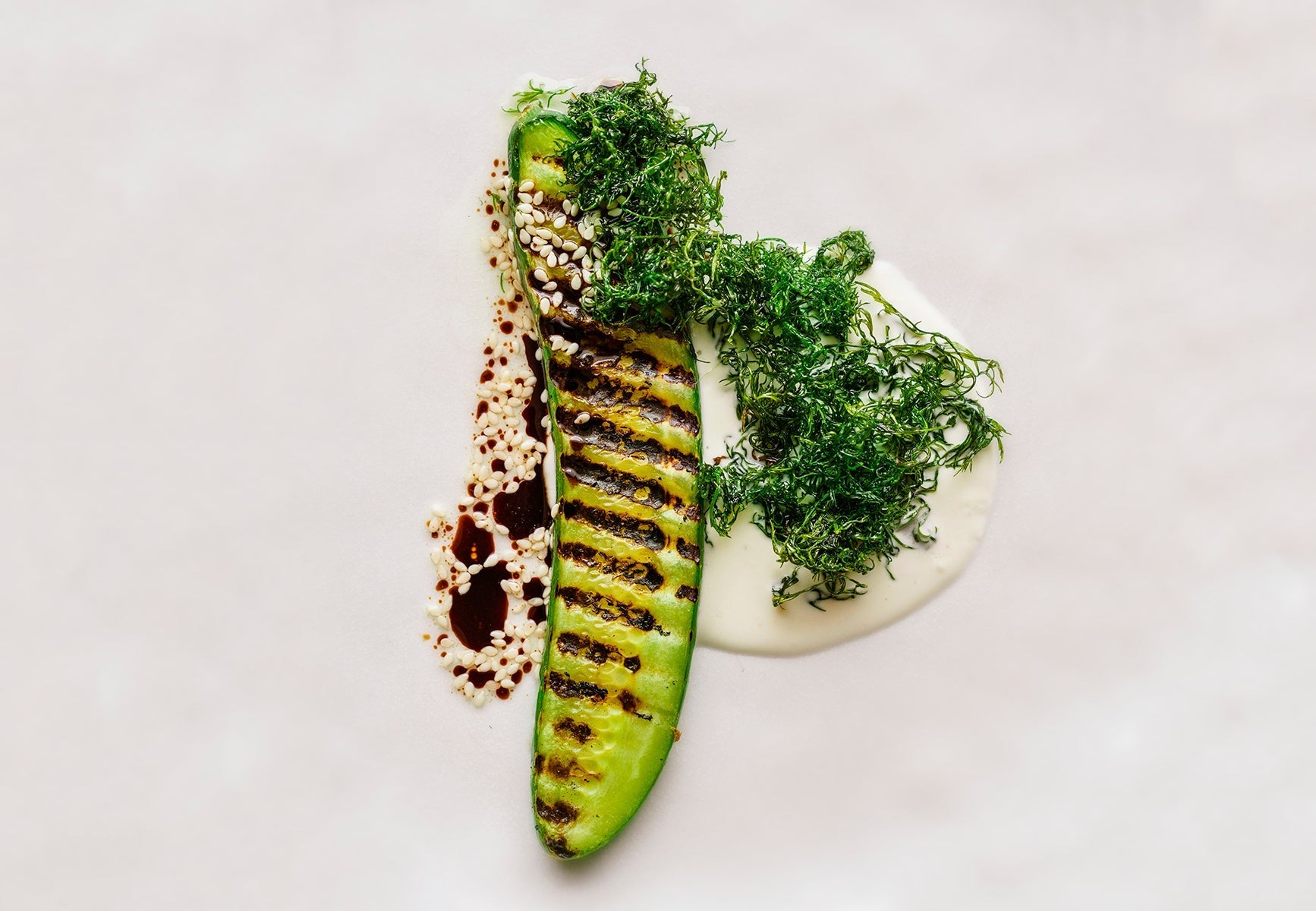 Grilled 7082 Cucumbers with Fried Dill
Chef: Dan Barber, Blue Hill at Stone Barns
Serves 8 as a side
Ingredients
(4) 7082 cucumbers, halved lengthwise
2 tablespoons rice wine vinegar
Salt and pepper
Vegetable oil
Strained yogurt
Sesame vinaigrette (recipe below)
Fried dill (recipe below)
Recipe
Preheat a ridged cast iron grill pan over high heat.

Arrange the cucumber halves, cut-side up, on a plate. Season with salt and pepper and drizzle with the rice wine vinegar. Marinate for 10 minutes. Pat the cut surface with a paper towel.

Lightly grease the surface of the hot grill with a little oil. Place the cucumber halves, cut-side down, on the grill and cook for two minutes until slightly charred. Remove from the pan and set aside.

Serve with a dollop of strained yogurt, a drizzle of warm sesame vinaigrette and a garnish of fried dill.
For the sesame vinaigrette:
3 tablespoons vegetable oil
1 tablespoons balsamic vinegar
1/4 teaspoon sesame oil
1 tablespoon toasted sesame seeds


Heat all the ingredients gently in a small saucepot, stirring to combine. Set aside and keep warm.
For the fried dill:
1 cup dill fronds
Vegetable oil for frying


Heat the oil in a medium saucepot to 325˚F.

Drop a few fronds of dill into the oil carefully. (It will sizzle and bubble very actively.) Fry for about 30 seconds, making sure the dill does not turn brown. Remove dill with a slotted spoon and set aside on a paper towel to drain.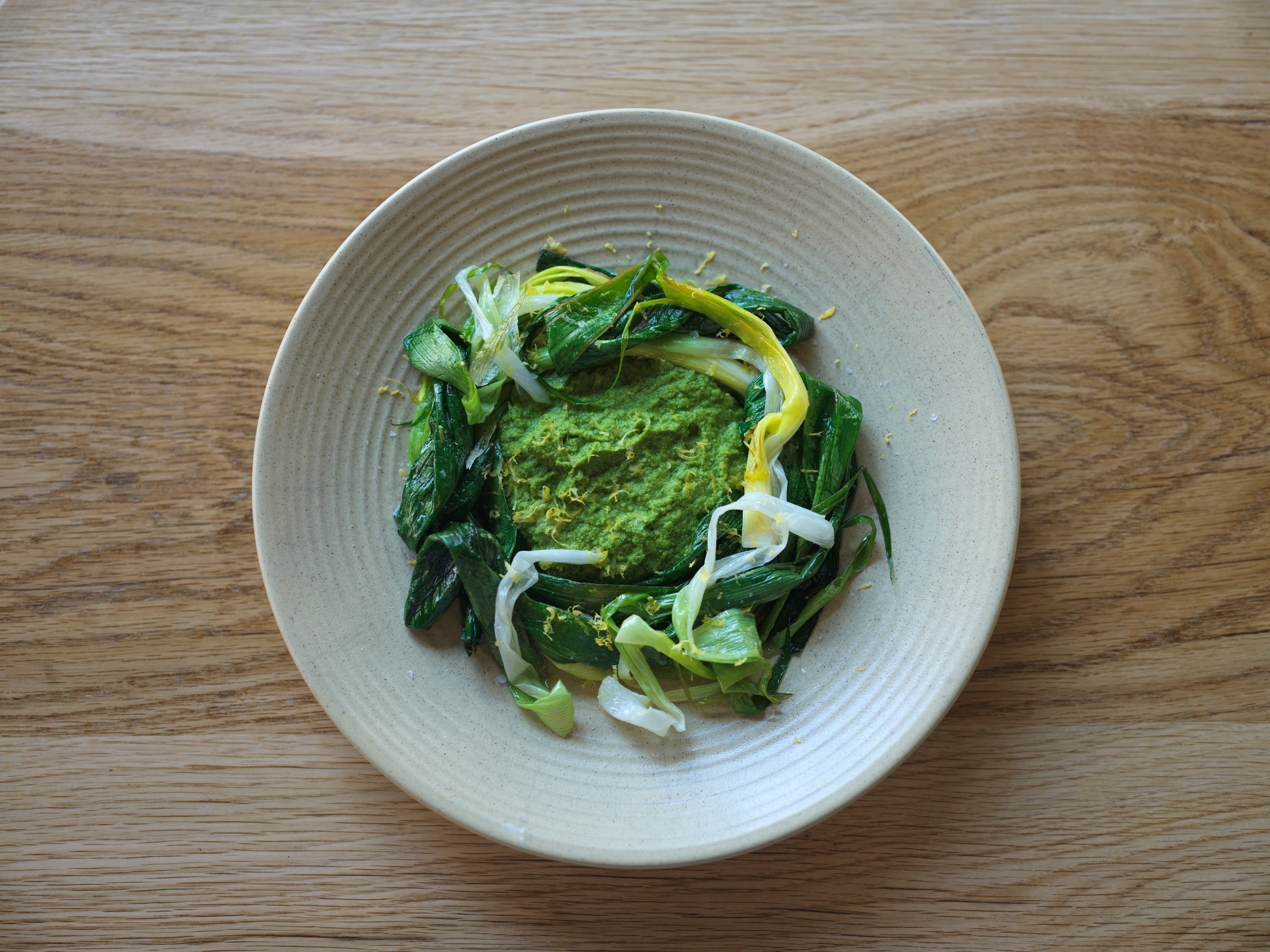 BY MARISOL CORONA, ATLA (NEW YORK, NY) INGREDIENTS 5 tablespoons neutral oil, divided 10 Sweet Garleeks, divided 1 small white onion, diced 1 clove garlic, sliced 2-3 poblano peppers, seeds remov...
Read more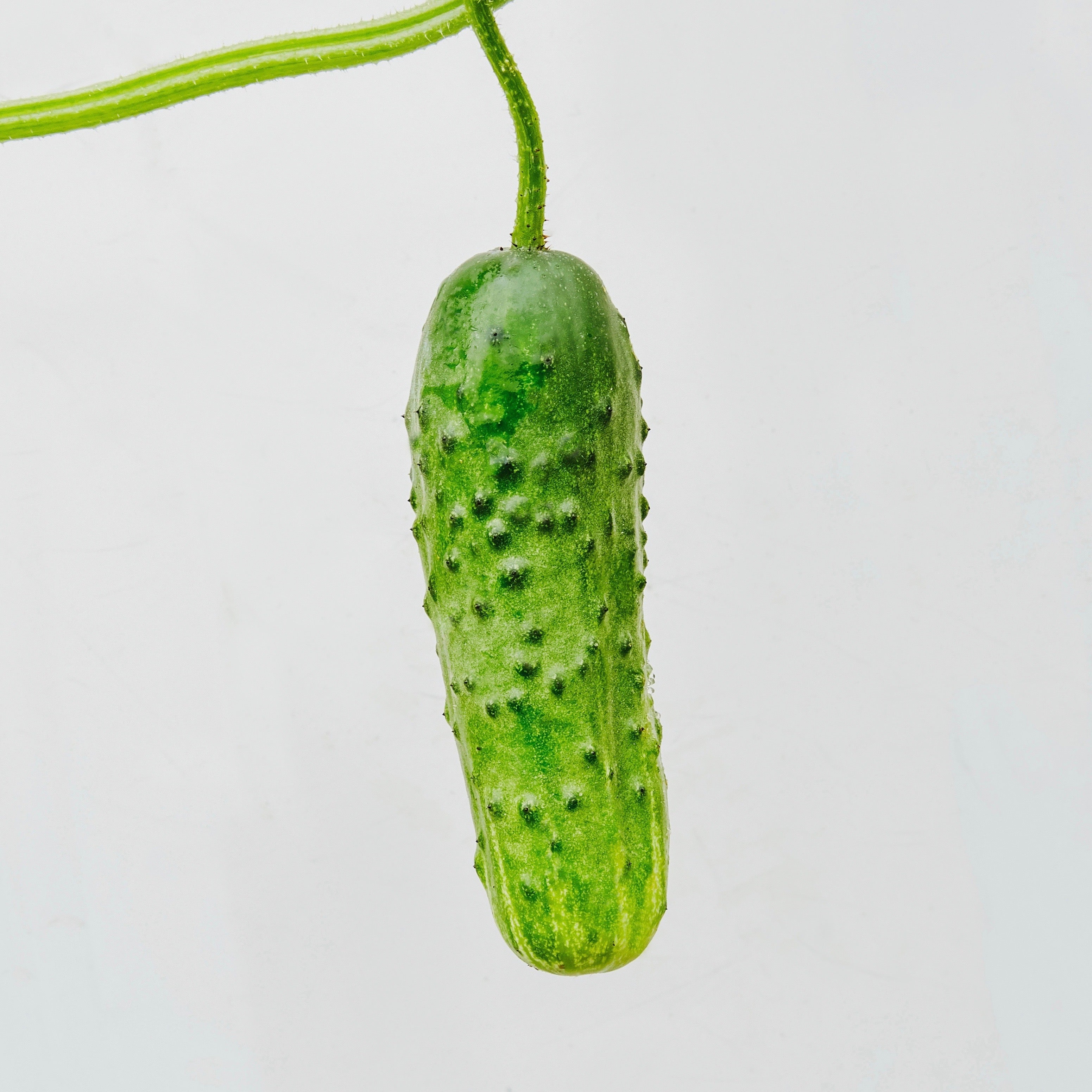 BY ANA SORTUN (CAMBRIDGE, MA) SERVES 8 INGREDIENTS (4) 7082 cucumbers, halved lengthwise 16 grape leaves (from a jar or fresh), stems trimmed1 cup walnuts, lightly toasted and ground1⁄2 cup toaste...
Read more