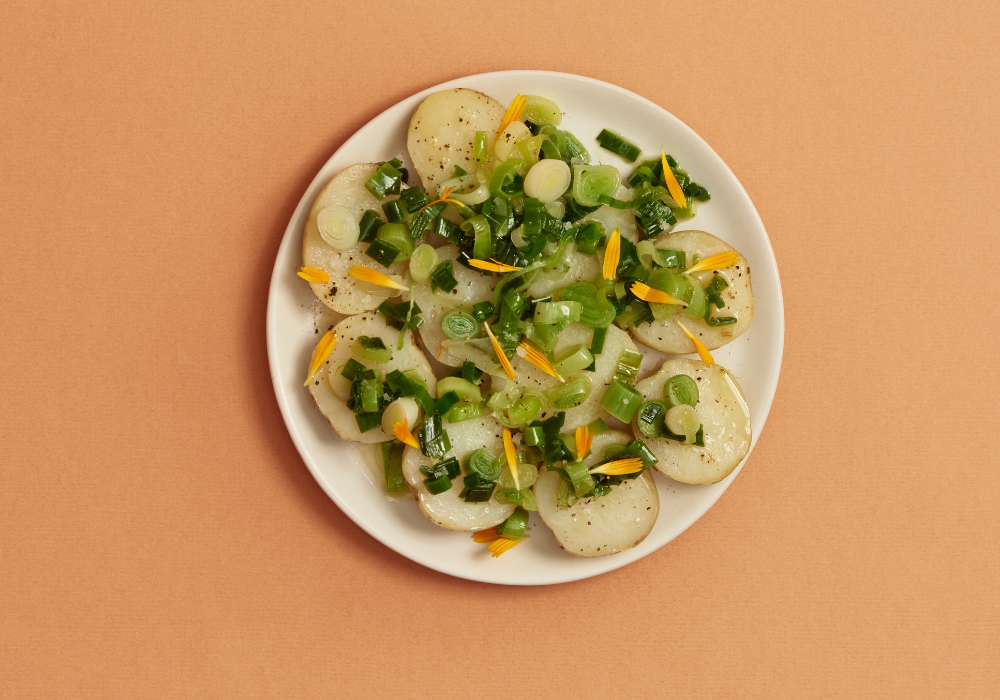 Sweet Garleek Marmalade
Ingredients
1 bunch (5 stalks) Sweet Garleek

1

jalapeño, sliced in half lengthwise and seeds removed

1 medium white onion, finely diced

1 large shallot, finely diced

1 bay leaf, split in half lengthwise

4 teaspoons powdered sugar

1 teaspoon salt

2 tablespoons neutral cooking oil (sunflower, safflower, canola, etc.)

2 tablespoons Champagne vinegar

2 tablespoons verjus

Freshly ground black pepper, to taste
Recipe
Start by separating the Sweet Garleek's green tops from the white/light green bottoms, then slice both into ⅛" thick pieces. Set each aside separately.


Using tongs and the burner on your stovetop, char the outside of one half of the jalapeño until completely black; alternatively, use a broiler. (The other jalapeño half can be used for another dish or composted.)


In a medium bowl, stir together the onion, shallot, charred jalapeño, Garleek white/light green bottoms, ½ bay leaf, powdered sugar and salt. Let this macerate for 15-20 minutes, stirring occasionally.
Heat a large sauté pan over medium-high heat. Add the oil, followed immediately by the macerated vegetable mixture. Over medium-high heat, cook for approximately 2-3 minutes, stirring constantly, until the vegetables have slightly softened.
Stir in the Sweet Garleek green tops, Champagne vinegar and verjus, then cover and let the marmalade simmer for 2 more minutes. Remove from heat, then transfer to a bowl and let cool slightly. Remove the jalapeño and bay leaf, then season to taste with black pepper and more salt if desired.
Spoon over roasted Upstate Abundance potatoes or any of your other favorite seasonal vegetables.