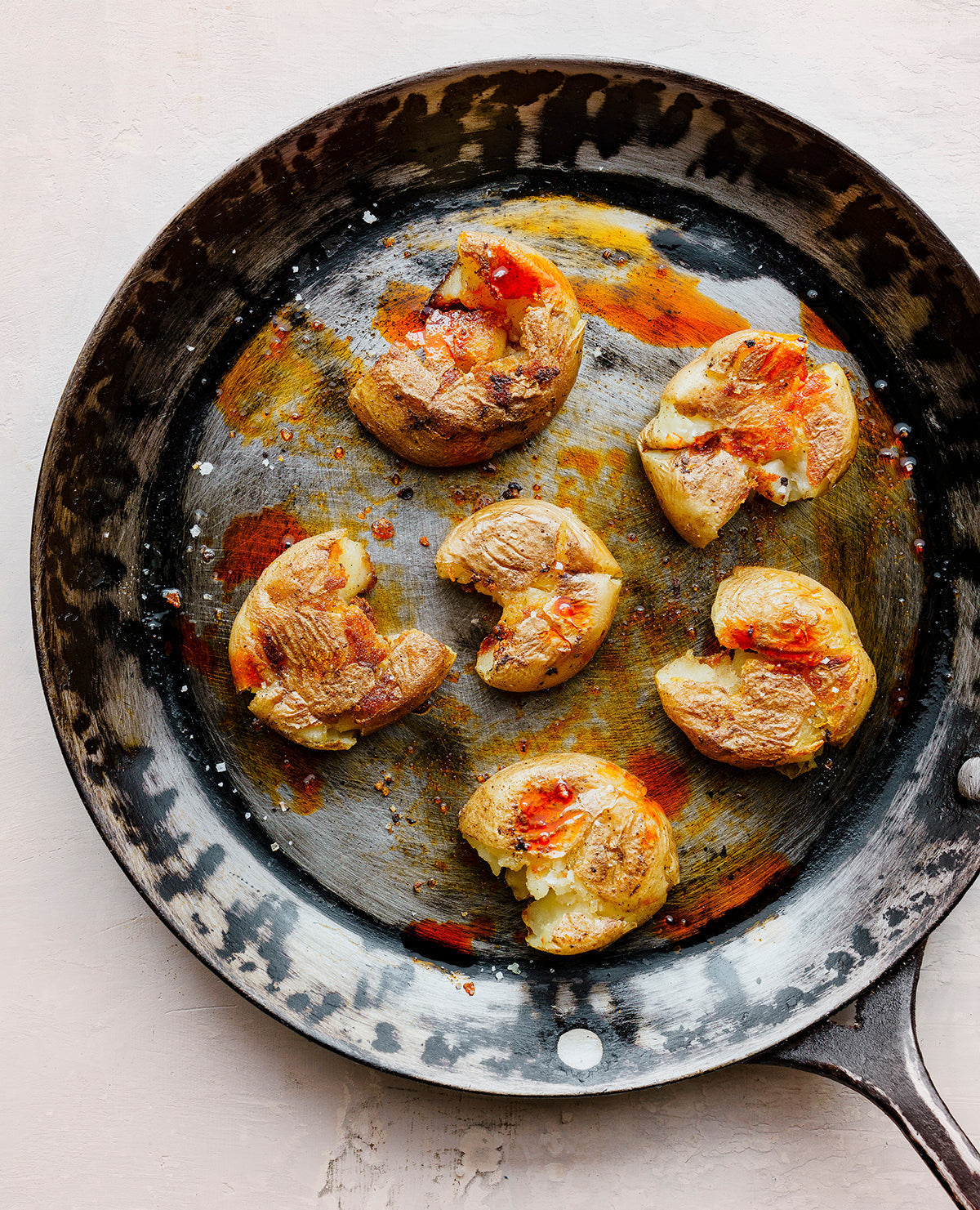 Smashed Upstate Abundance Potatoes with Chili Oil
Serves 2
INGREDIENTS
1 pound Upstate Abundance potatoes (about 8 potatoes)
1/4 cup olive oil
Chili oil (recipe below)
Salt and pepper
1 cup roughly chopped fresh herbs for garnish (parsley, tarragon, chervil and chives are great)
RECIPE
Place the potatoes in a medium pot and fill with cold water. Add a generous amount of salt (think: seawater).

Bring water to a boil over medium-high heat and cook for 30 minutes, until fork tender. Drain and allow to cool slightly.

Using the back of a metal spatula, gently but firmly flatten the potatoes on a cutting board. Don't overdo it – just enough to flatten them slightly without the potatoes falling apart.

Heat the olive oil in a large cast iron skillet or heavy sauté pan over medium heat.

Using a spatula, carefully transfer the potatoes to the pan. Fry for about 3 minutes per side, turning them gently.

When lightly golden brown, transfer to a plate. Drizzle with chili oil and season with coarse salt. Garnish with herbs.
For the Chili Oil:
INGREDIENTS
1/4 cup smoked paprika
1/4 cup sweet paprika
2 tablespoons Aleppo pepper
1 tablespoon red pepper flakes
1/8 teaspoon cayenne pepper
2 cups vegetable oil
1/4 teaspoon salt
RECIPE
Place the spices in a small saucepot. Gently warm over a medium flame, being careful not to scorch or burn the spices. Add the oil and salt and bring just to a simmer.

Immediately remove from the heat and allow to cool in the pot. Let sit for 2 hours and then strain through a coffee filter into a sanitized glass jar. Chili oil will keep, sealed and refrigerated, for up to 6 months.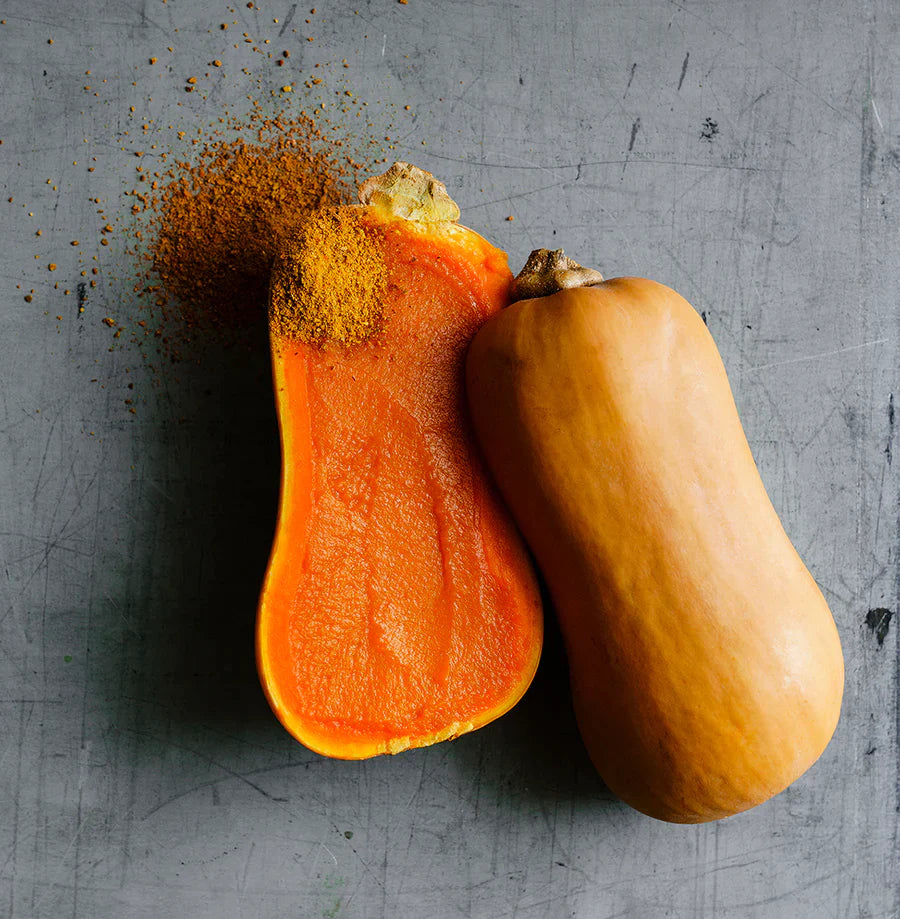 Honeypatch Puree and Squash Skin Crumble
Chef: Dan Barber, Blue Hill at Stone Barns INGREDIENTS (4) Honeypatch Squash1 tablespoon olive oil or vegetable oilSalt and pepperSquash skin crumble (recipe below) RECIPE Preheat oven to 375˚F. ...
Read more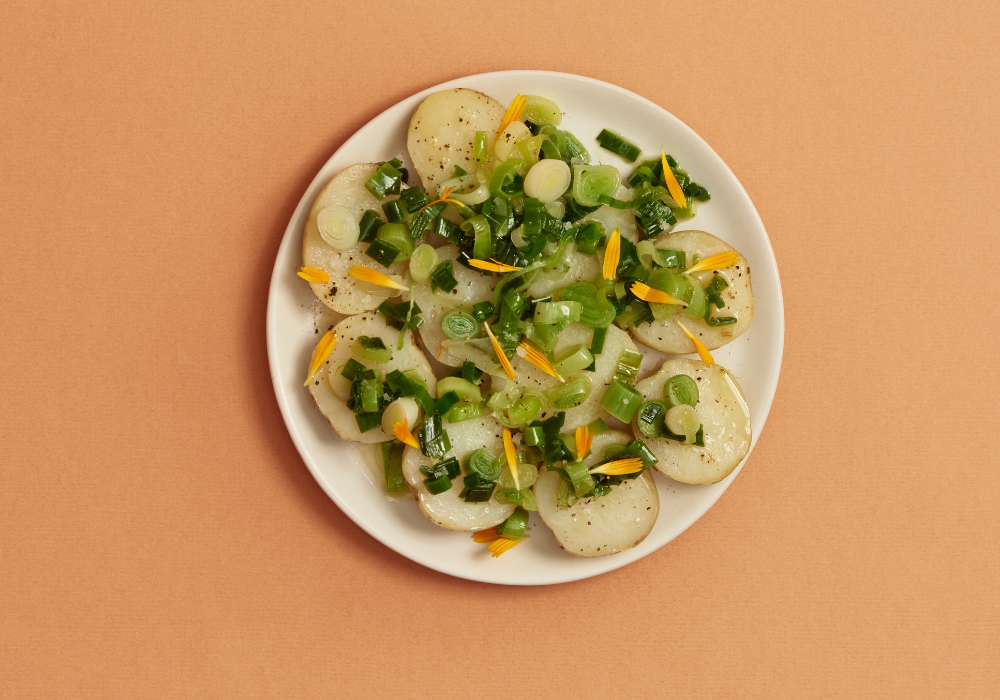 Ingredients 1 bunch (5 stalks) Sweet Garleek 1 jalapeño, sliced in half lengthwise and seeds removed 1 medium white onion, finely diced 1 large shallot, finely diced 1 bay leaf, split in half le...
Read more