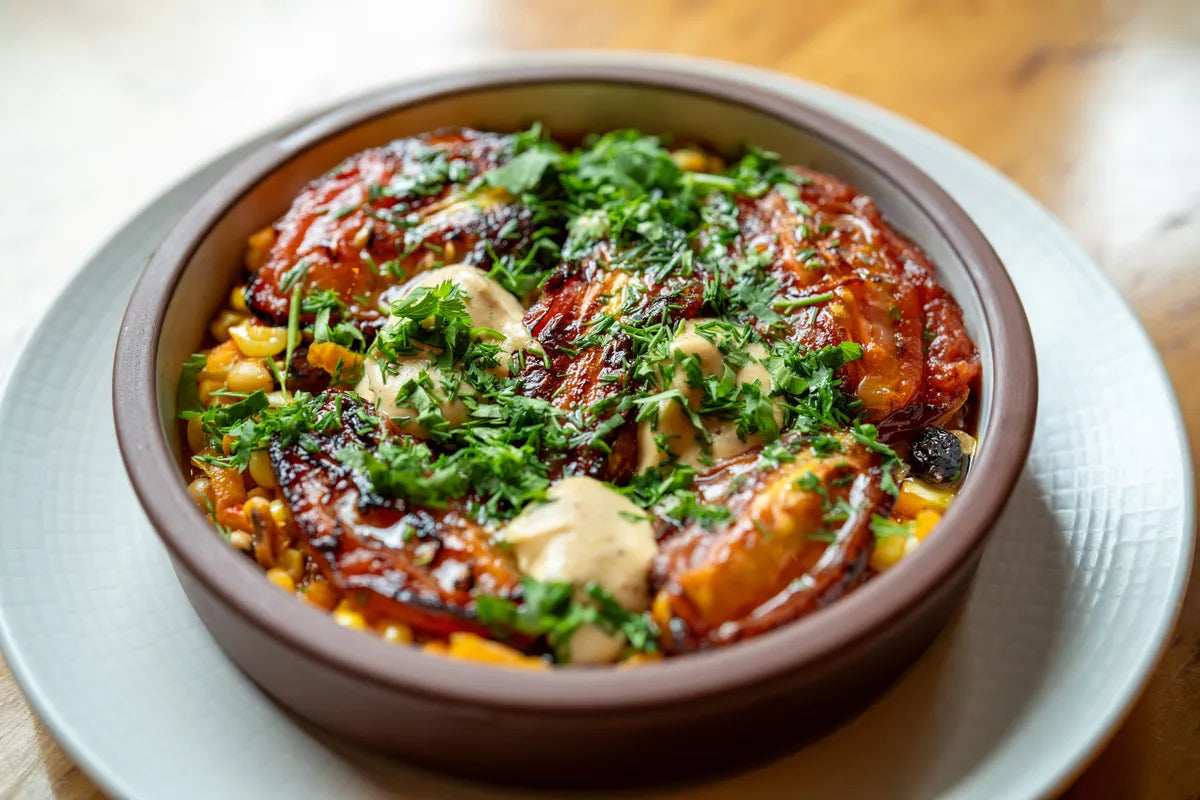 Seared Midnight Romas with Black-eyed Pea & Corn Plaki and Cashew Tarator
BY ANA SORTUN (CAMBRIDGE, MA)
INGREDIENTS
1 cup black-eyed peas, picked over

1 summer or Vidalia onion, finely chopped

1 teaspoon ground cumin

2 teaspoons ground curry powder

1 cup grated carrots

1 tsp finely minced garlic

2 cups fresh corn kernels

2 cups grated fresh tomato

1 tablespoon tomato paste

1 tsp dried oregano

1 tablespoon dried currants

1 tablespoon rinsed and roughly chopped capers

1 tablespoon fresh lemon juice

4-5 tablespoons extra virgin olive oil

2 tablespoons chopped basil, cilantro and/or dill

1 tablespoon sumac

8 Midnight Roma tomatoes, split in half lengthwise
FOR SAUCE:
2 cups cashews

2 cups water

½ cup extra virgin olive oil, divided

1 teaspoon chopped garlic

¼ cup fresh lemon juice

1 tablespoon Urfa chile flakes

Salt
DIRECTIONS
Place black-eyed peas in medium pot and fill with water until 4" above peas. Bring to a boil, then lower heat and simmer 25-35 min, until peas are tender but not falling apart. Drain, immediately toss with 2 tablespoons of olive oil and season with salt.
In a medium sauté pan on med/med-low heat, cook onions in 2 tablespoons of olive oil until translucent, about 8 min. Stir in carrots, garlic and corn and cook until carrots and corn are tender, about 5 min. Add grated tomato, tomato paste, black-eyed peas and oregano, then simmer until tomatoes thicken into a sauce—about 6 min. Stir in currants, capers, lemon juice and another tablespoon of olive oil, then season again with salt to taste.
Heat 2 tablespoons of olive oil in a cast iron or large sauté pan over med-high heat and sprinkle tomatoes generously with salt. Place 8 tomato halves cut-side down in pan and let sear until lightly caramelized—about 6 min. Flip halves and let cook until tender and a bit collapsed. Repeat with remaining tomatoes.
To make the sauce, blend cashews, water, ¼ cup of olive oil, garlic, lemon juice and Urfa chile in a high-powered blender for several min until very smooth.

With blender running, slowly pour in the last ¼ cup of olive oil, then season with salt to taste.
Spoon plaki onto a platter, top with tomatoes and dollop cashew sauce over each. Finish with fresh herbs and sumac.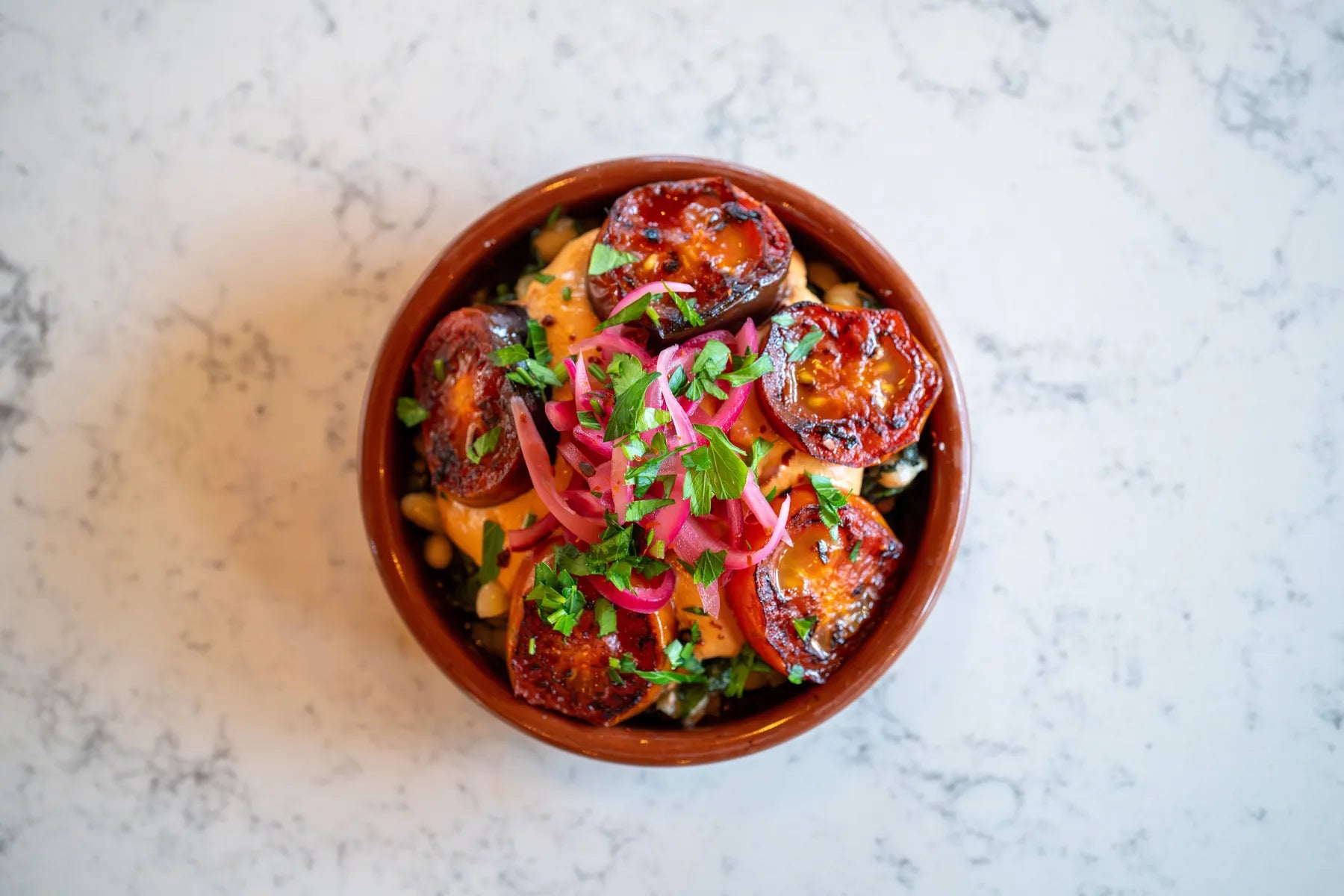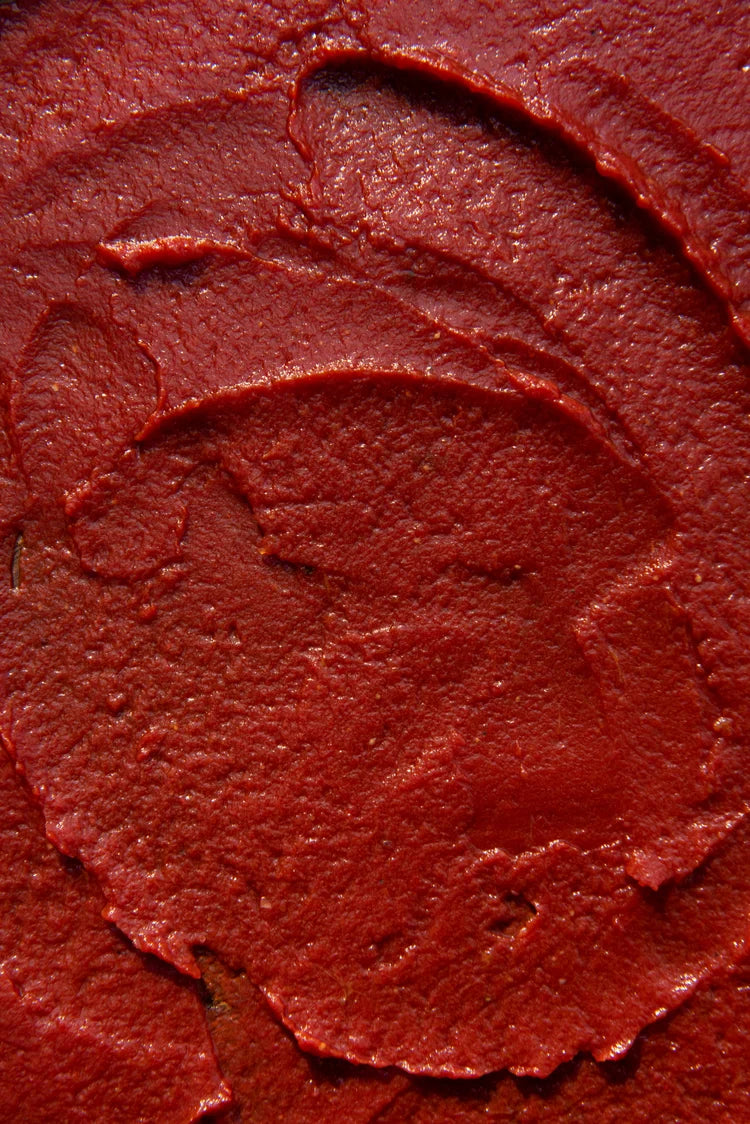 This recipe is for an all-purpose, unseasoned tomato sauce or paste; a blank canvas perfect for immediate use or preservation. Leaving the skins on for the early stages of cooking helps to set the...
Read more