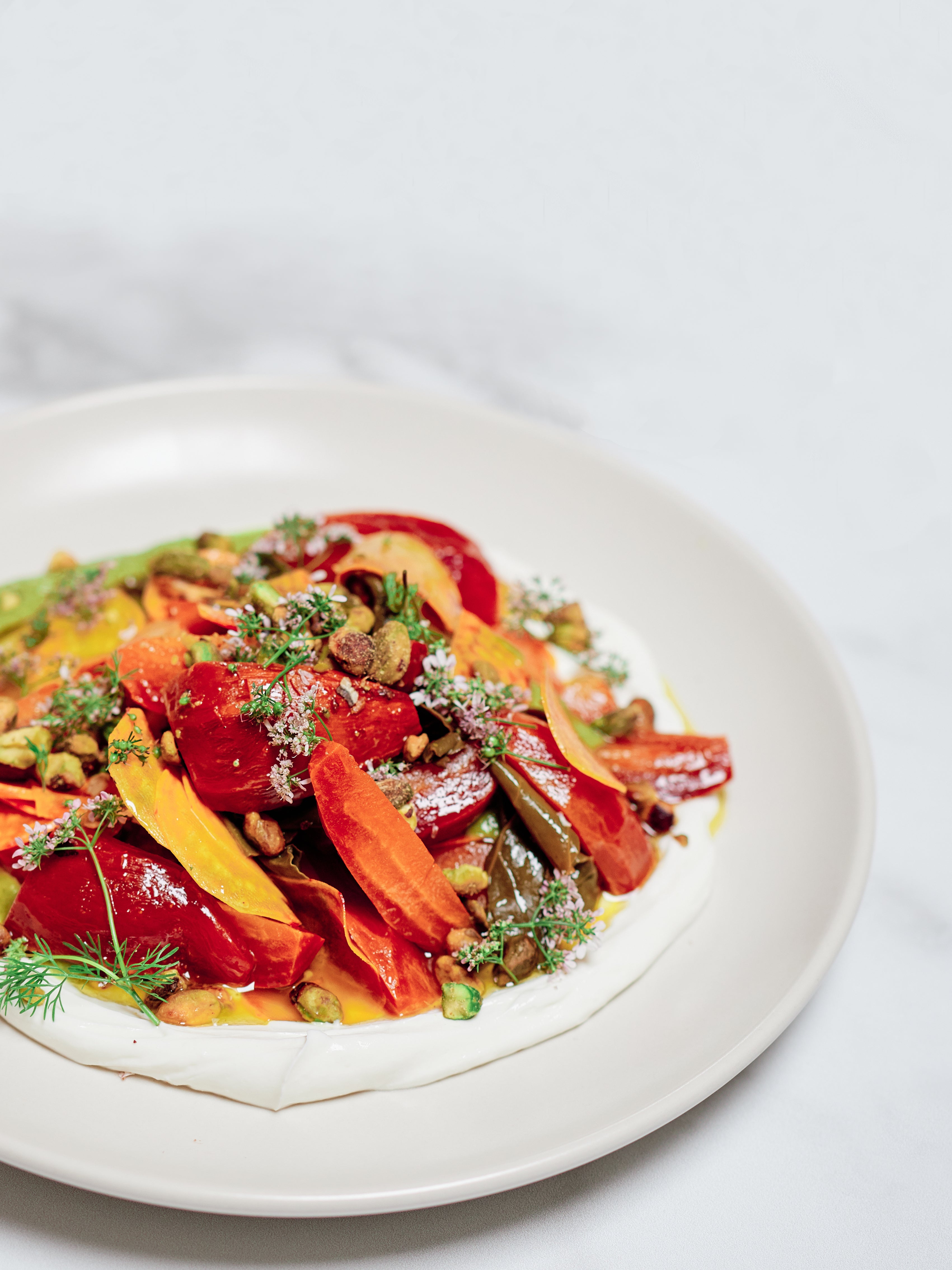 Salt-roasted Badger Flame Beets With Green Coriander and Ricotta
BY RENEE ERICKSON (SEATTLE, WA)
SERVES 6
INGREDIENTS
1 teaspoon dijon mustard
1 cup cilantro leaves, tightly packed
1 cup flat-leaf parsley leaves, tightly packed
1⁄4 cup fresh green coriander seeds or 2 tablespoons of toasted coriander seeds
3⁄4 cup extra-virgin olive oil
1 clove garlic
21⁄4 cup good quality white wine vinegar
freshly ground black pepper
1 cup shelled unsalted pistachios
1 box kosher salt
10 badger flame beets, stems removed
12 ounces fresh ricotta (preferably bellwether farms)
cilantro flowers, for garnish (optional)
maldon salt, for garnish
RECIPE
Put the Dijon, cilantro, parsley, green coriander seeds, olive oil, garlic and 1⁄4 cup of the white wine vinegar into a blender and pulse to get it moving. Turn on high and blend until smooth. Add a touch of water if it's too stiff to blend, but do not overmix. Season with salt and freshly ground black pepper to taste.

Preheat the oven to 350°F. Toast the pistachios for about 10 minutes—they should still be chewy once cooled. Set aside.

In a large bowl mix the entire box of kosher salt with the remaining white wine vinegar. Spread the wet salt on a baking sheet and place all but 1 beet on the salt. Cover tightly with aluminum foil, place in the oven and roast for 30-45 minutes (larger beets will take longer), until the beets are tender when pierced with a paring knife. Set aside to cool.

Once cool, peel off the skins by rubbing them with your hands, then cut the beets into wedges.

Peel the skin off the remaining uncooked beet and shave it on a mandolin into thin rounds. Salt

the slices lightly and set aside.

In a food processor, whip the ricotta on high for about 10 minutes, or until shiny and smooth.

To serve, toss the roasted and sliced raw beets in a bowl with a drizzle of olive oil and a pinch of salt. Spread the ricotta onto a platter, leaving a well in the middle. Spoon some of the coriander vinaigrette into the well, followed by half the beets and half the pistachios. Repeat with more spoonfuls of the coriander vinaigrette and the rest of the beets and pistachios. Garnish with cilantro flowers and a sprinkle of Maldon salt.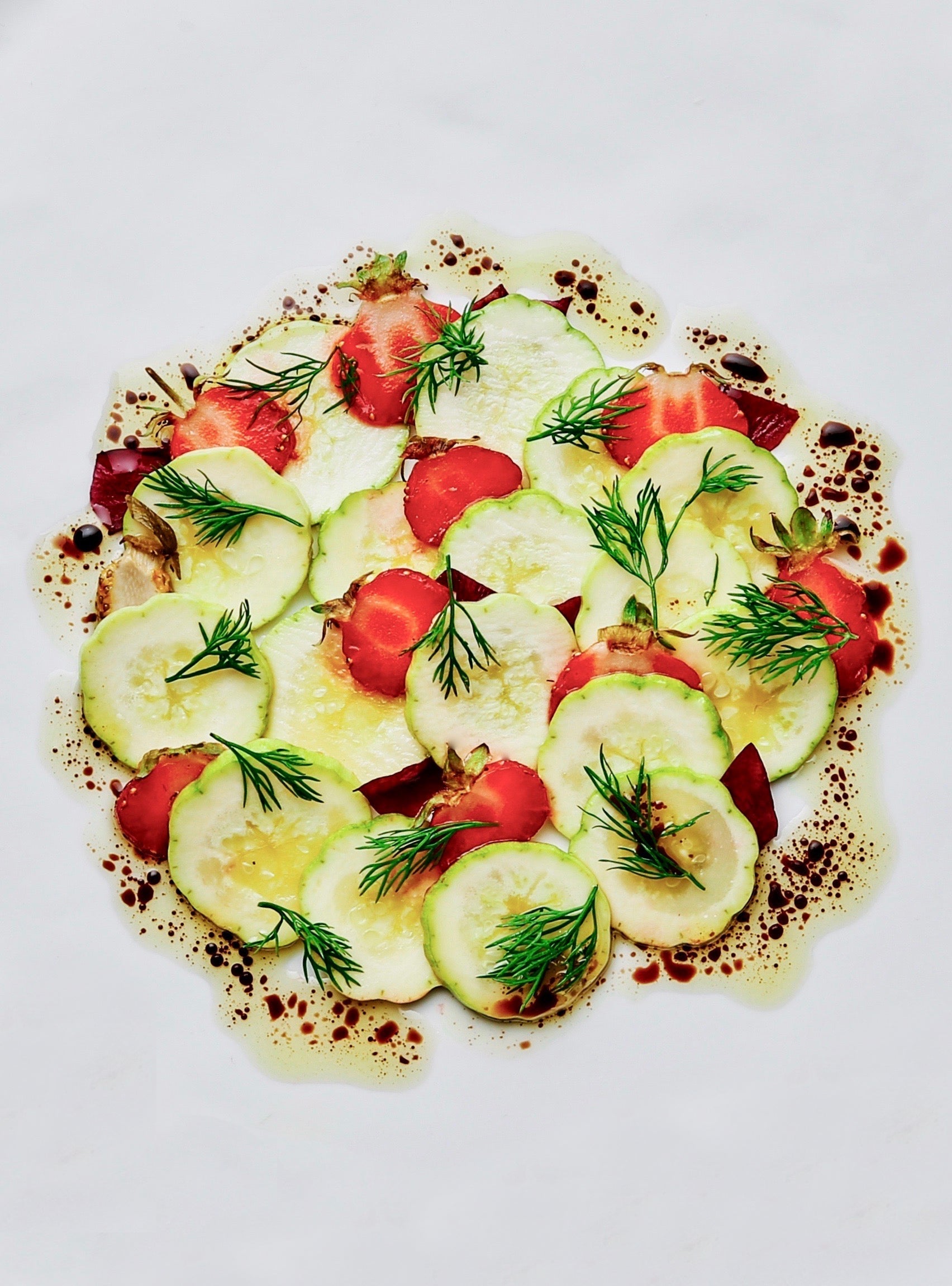 BY DAN BARBER INGREDIENTS 4 green, immature Tetra squash, 2-4" long8 strawberries, smaller size or alpine type, stems removed5 Nasturtiums, petals only5 Johnny jump-ups, petals only5 sprigs of dil...
Read more