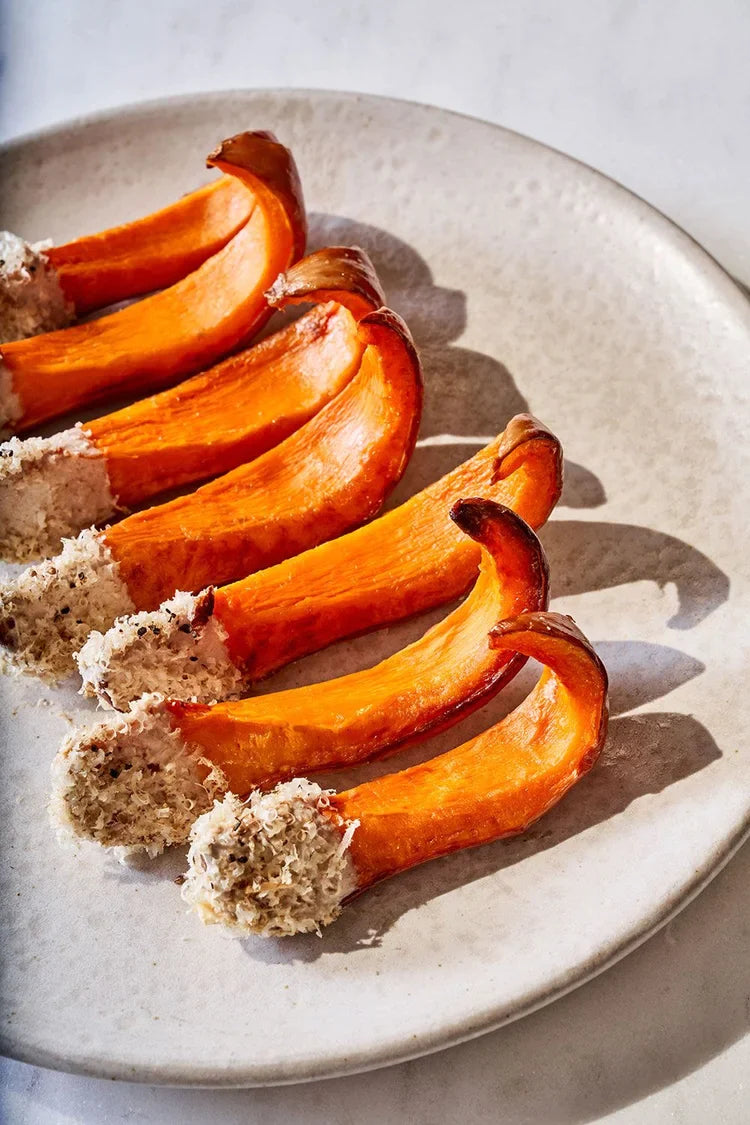 Roasted Koginut Wedges with Walnut Sauce
Serves 2
Ingredients
1 Koginut squash
Olive oil
Salt and freshly ground black pepper
1¼ cups walnuts, divided
1½ cups water
4 cloves roasted or confited garlic
1 clove raw garlic
2 tablespoons high quality olive oil
1 teaspoon salt
¼ teaspoon freshly ground black pepper
Recipe
Preheat oven to 425˚F.
Start by first removing the Koginut's stem. Holding the squash securely on its side, remove the stem by firmly knocking it several times with the top (blunt) end of a chef's knife—it should pop right off. Working top to bottom, slice each squash in half, then use a spoon to scoop out the seeds. (Compost the seeds, if possible, or clean, roast and eat them.)
Next, follow the natural ridges/depressions of the Koginut skin to cut it into wedges about 1-1½ inches wide. In a large bowl, toss the wedges with a drizzle of olive oil, several generous pinches of salt and some cracks of black pepper. Spread the wedges out over a baking sheet on their sides. Roast in the oven—flipping them once—for 20-30 minutes, or until they're golden brown and tender.
To make the sauce, first toast the walnuts by spreading them on a baking sheet and baking at 350˚F for 8-10 minutes, tossing frequently. Remove from the oven once they're golden brown and aromatic, then let cool. Next, 'peel' the walnuts by transferring them to a clean dish towel, using one hand to gather up the sides to make a bundle, and your other hand to rub the bundle aggressively in order to loosen up the skins. Pour the nuts into a colander/wide-mesh strainer over a compost bin or sink, and shake to force the excess skins through the colander and separate the nuts.
Place 1 cup of the peeled nuts (reserving the rest for garnish) in a high-speed blender or food processor. Add the water, two types of garlic, oil, salt and pepper and blend until smooth. If the mixture is too thick to process, add more water in small increments to get it moving; the finished sauce should be thick but pourable. Taste, and season with more salt and pepper if desired.
To serve, dip the ends of each squash wedge into the walnut sauce and arrange on a platter. Alternatively, drizzle the sauce over the wedges. Using a microplace, shave the reserved walnuts over the wedges as you would parmesan. Finish with a sprinkling of crunchy salt, more cracks of black pepper, a squeeze of fresh lemon juice and a drizzle of really good olive oil.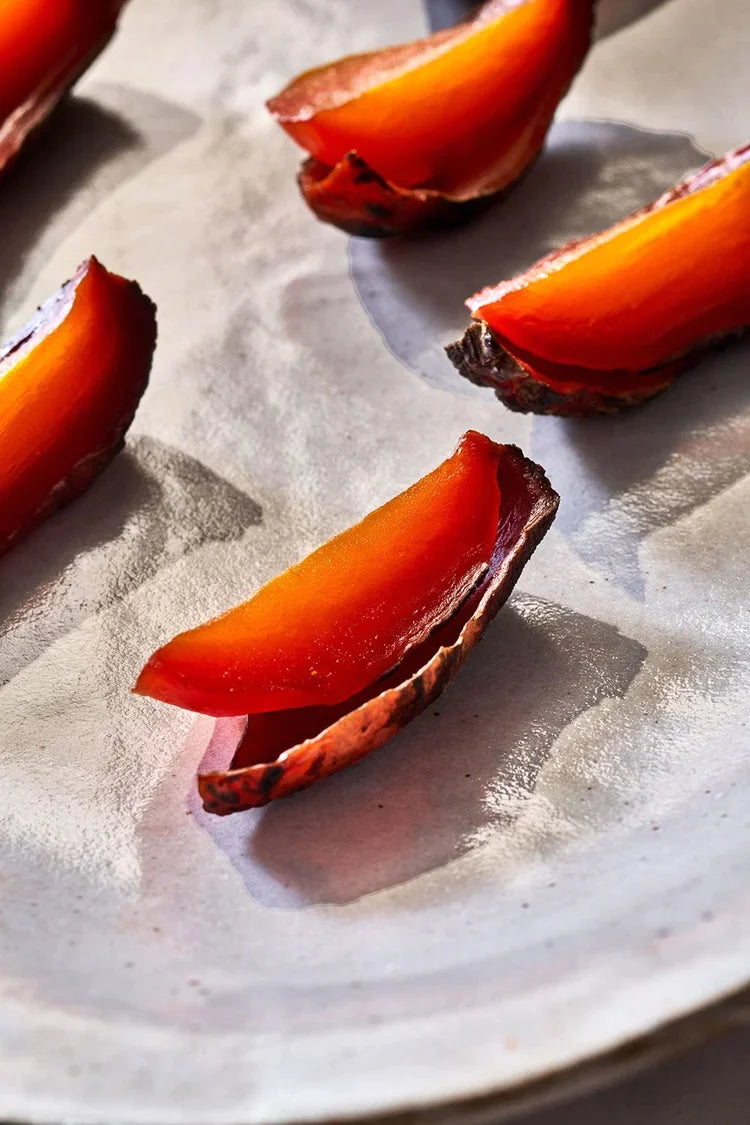 Salt Roasted Badger Flame Beets
Serves 6-9 as a side Ingredients 6-8 medium Badger Flame beets, peels left on 1 box (3 pounds) Diamond Crystal kosher salt Recipe Preheat oven to 350˚F. Cover the bottom of a half-size hotel ...
Read more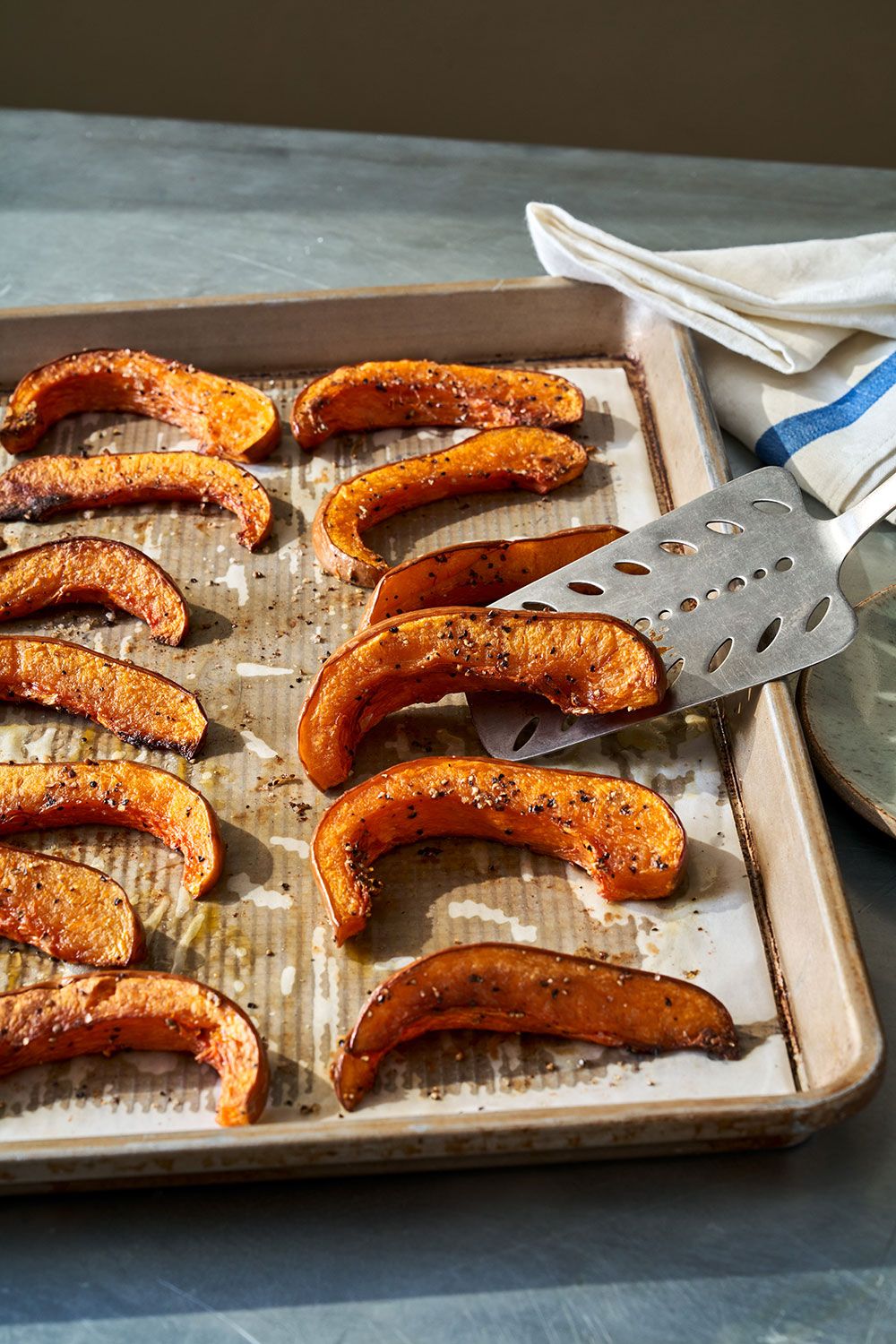 Roasted Koginut Squash (+ Purée)
Ingredients 2 Koginut squash 1 tablespoon olive oil or vegetable oil Salt and freshly ground black pepper Directions Preheat oven to 400˚F. Holding each squash securely on its side, remove th...
Read more